Ron Layport amazing carved wood vases
We've all seen turned wood vessels at local art and craft fairs, but it's unlikely you've ever seen anything as detailed as Ron Layport's wood vessels. Yes, like any wood vessel of that ilk, they are turned on a lathe. But that's just the beginning for Layport. From there ,he punctures, carves, sands and polishes the forms to perfection, oftentimes arduously honing them into elaborate, repetitive animal motifs. Like many a great artist, Layport didn't start out making masterpieces in wood. He came to woodworking after a long career in advertising, most notably as veteran creative director and a founding partner of Gray Baumgarten Layport Inc., one of Pittsburgh's longest-running ad agencies. He retired in 2000 and within a few short years that agency was absorbed into another.
Layport began working with wood in the 1980s, building one-of-a-kind pieces of furniture. Although his work was met with success — including being featured in Fine Woodworking magazine — it wasn't until 1992 that he found his niche, when he took a class with David Ellsworth, a well-known wood turner from Philadelphia who is widely acknowledged as the pioneer of turning thin-walled hollow vessels in wood.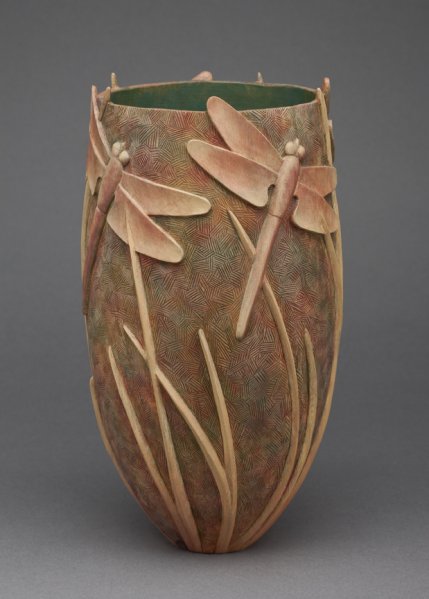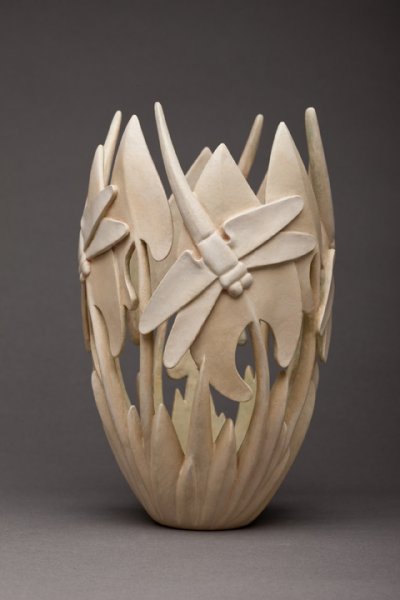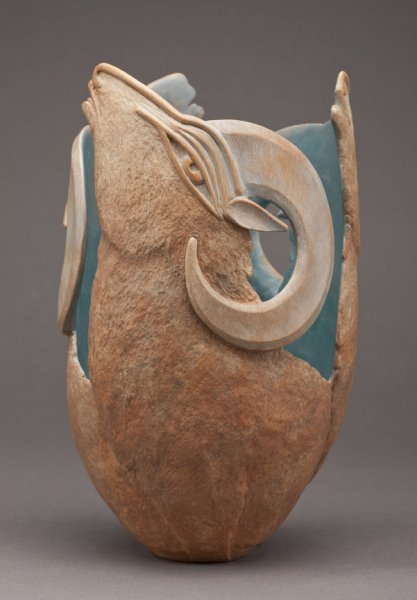 "The class was a 50th birthday gift from my then-wife and my three kids," Layport says. "I was immediately smitten by this whole (wood-turning) genre. I came home, turned four table legs for a table I was working on, then I set out to turn vessels.
"It was right at the time that I definitely needed a new track to run on, and it opened up a whole world that was just limitless."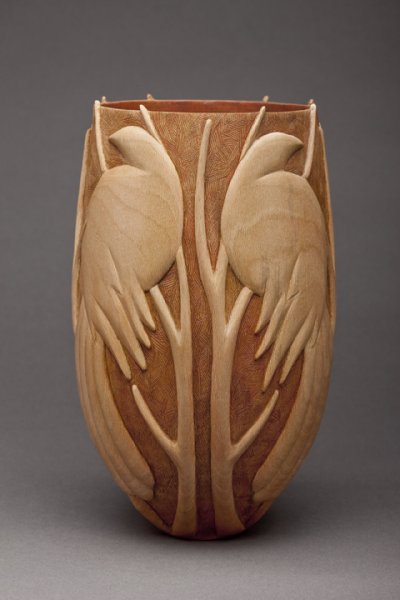 Layport's big break in the field took place in 2000, when the owner of del Mano Gallery in Los Angeles purchased a piece Layport had entered into a fundraising auction held by the American Association of Woodturners. Del Mano Gallery has been his chief representative ever since, having included his work in 11 SOFA Chicago expositions, the country's leading art and craft fair for sculptural objects and functional art, as well as SOFA New York and SOFA Santa Fe.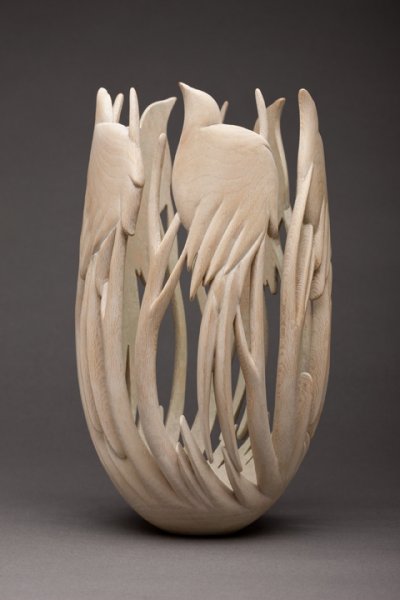 Today, Layport says he spends about six to eight hours, seven days a week, working on his vessels. "It takes about five or six weeks of full days, seven days a week, to make most of the major pieces," he says.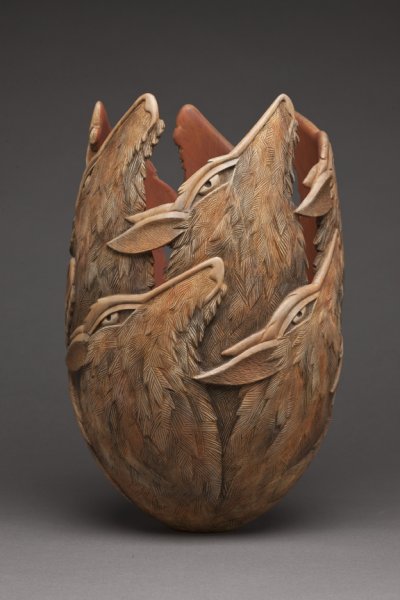 Pieces like "Dreamscape," which features a flock of birds delicately turned and carved from a tulip poplar log, took five weeks. This lyrical piece was featured in the del Mano Gallery exhibit "Turned and Sculptured Wood '08." A more recent work, "Glades Blossom," which Layport created just last year, was hewn from a piece of local sycamore.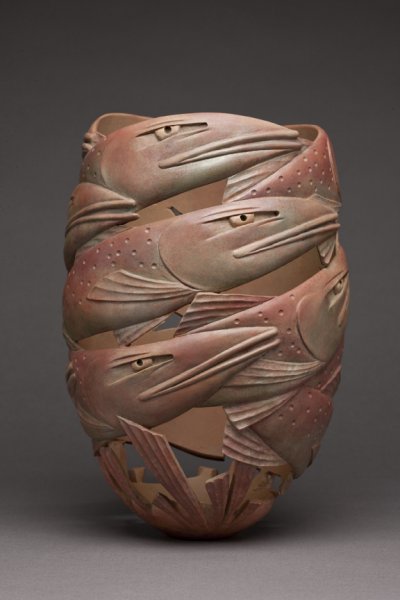 The use of such common woods is quite a turn, compared to other woodturners who favor more exotic woods, Layport says.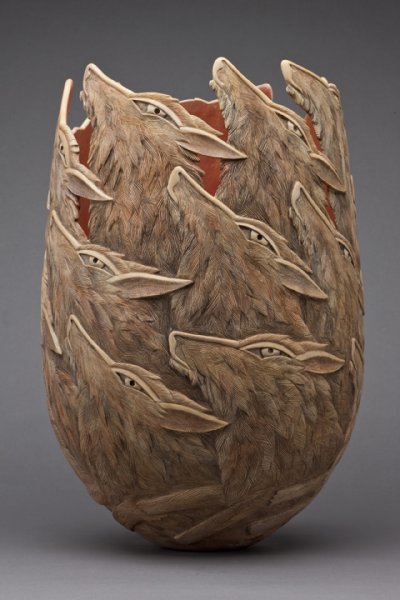 Like them, he says, "Early on, I was working with burls from the West Coast and exotic woods from here and there, in which the wood itself was bringing the beauty to the work. But, once I started (creating) figurative work — work with animal forms, etc. — the wood became competitive with the figures that I was sculpting. So, the more sculptural they became, the less you saw the bare wood."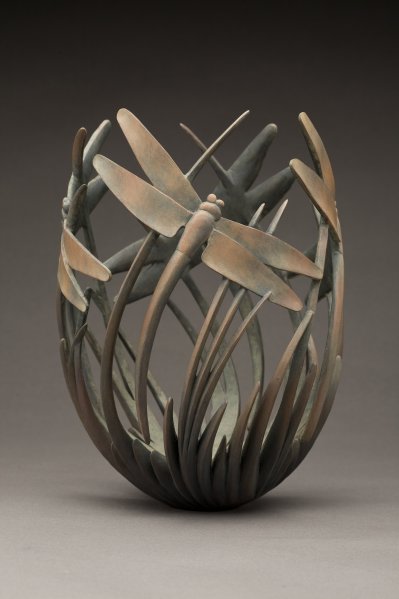 Now, he says, "I am trying to work with line and form rather than the wood grain and the color of the wood."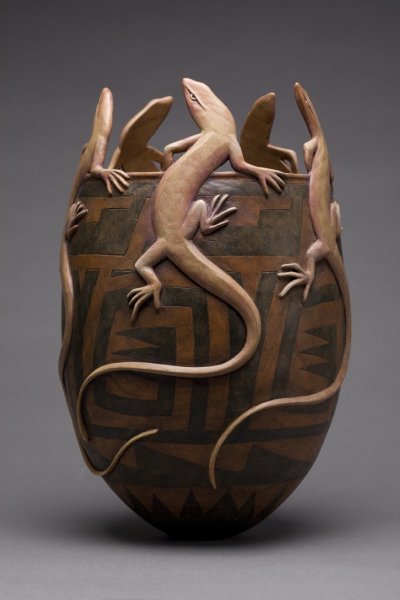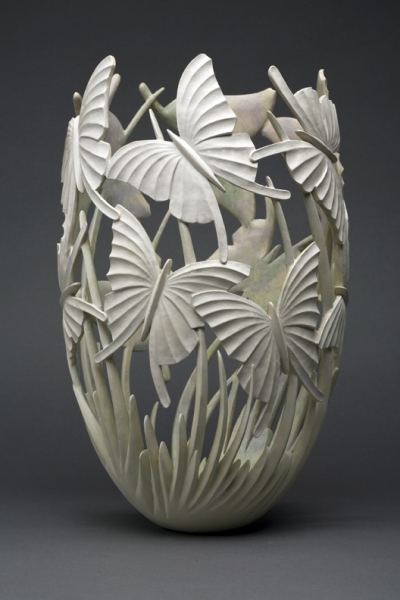 Author contact information: